Gold Coast Airport Marathon 2017
12/06/2017
Fast-track your marathon time: Ride the G: every 7.5 mins from 4am.
If you are planning to catch a tram to the Gold Coast Airport Marathon, we'll be running extra early morning services on Saturday 1 and Sunday 2 July to help you get there. We'll also be running all day (just like you!) so you can jump on board, anytime you need to.
Extra services on Saturday will mean increased frequency between 4:30am and 7:30am.
Extra services on Sunday will mean increased frequency between 4am and 3pm.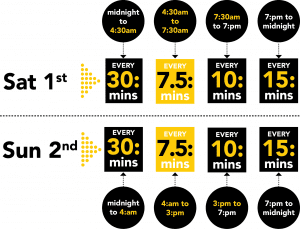 Remember that there may be crowds, so plan both your ticketing and group movements with that in mind. Using a go card is a quick way to ensure that you and your companions all have valid tickets for travel on the tram. Alternatively, you can buy paper tickets at the station.
When you have your tickets, and the next tram arrives, push the illuminated button on the tram to open the door. Make sure everyone is ready and all board at the same time. Once on board, remember to hold on, or sit down at all times.
Staff, volunteers and competitors can travel free on the G: between 4:30am and 1pm on Saturday and 4am and 3pm Sunday provided they are wearing or are in possession of one of the following:
Wrist band
Crew T-Shirts
Participants race number bib
If you are unsure whether this applies to you, visit TransLink or call 13 12 30 anytime.
You can also visit TransLink for info on fares, ticketing and ticketing retailers, journey planning and general public transport info, or call TransLink on 13 12 30 anytime.