How to get there

To get here ride a tram to Cypress Avenue and then walk down Thomas Drive. You can also take a 740 bus from Cypress Avenue to make your walk shorter.

Need more help getting to this event? Visit the Translink Journey Planner.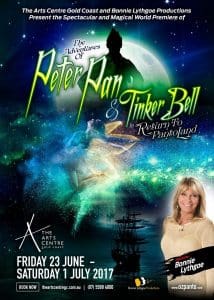 Glittering sets, extravagant costumes, amzing songs and audience participation means that the world premiere of The Adventures of Peter Pan and Tinkerbelle in return to Pantoland will be a hit. Hosted by the Arts Centre it will be the show's only performance in Queensland.