How to get there
Ride the G: to Cypress Avenue. From here, walk down Thomas Drive and turn left onto Bundall Road. Alternatively, get the 740 bus (Nerang) to the corner of Slatyer Avenue and Ferry Road.
Need more help getting to this event? Visit the Translink Journey Planner.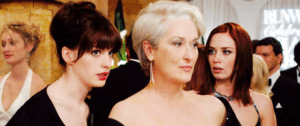 If you can't watch a film without obsessing over the fashion, then the Fashion on Film series of events are right up your alley. This micro film festival offers a curated selection of the most seminal films and documentaries about fashion. Popular hits like The Dressmaker, The Devil Wears Prada, and Funny Face will run alongside gripping industry documentaries like Dior and I, Advanced Style and Iris. Fashion on Film runs through to February 15 and is part of the Coming into Fashion exhibition at Gold Coast City Gallery.
Dior & I (M) | Thu Nov 30 | 6:30 pm
Dries (G) | Thu Dec 7 | 6:30 pm
Funny Face (G) | Thu Dec 14 | 6:30 pm
The Dressmaker (M) | Thu Jan 11 | 6:30 pm
Advanced Style (PG) | Thu Jan 18 | 6:30 pm
Breakfast At Tiffany's (PG) | Thu Jan 25 | 6:30 pm
Iris (M) | Thu Feb 1 | 6:30 pm
The Devil Wears Prada (PG) | Thu Feb 15 | 6:30 pm
$5 per film or indulge in a package for $20 which includes one film, late night exhibition entry and a glass of sparkling wine.