How to get there
Need more help getting to this event? Visit the Translink Journey Planner.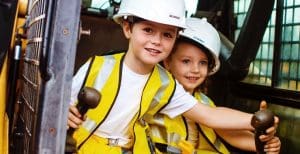 The Broadwater Parklands will come alive with everything that digs, scoops, cleans and beeps on Sunday 28 May (9am-2pm).
More than 50 City vehicles will be on display to the public including: excavators, graders, loaders, tip trucks, road sweepers, beach tractors, quad bikes and more. This year, even the emergency services will have a presence, with fire, ambulance and police on display.
Bring the whole family along, slap on a hard hat and imagine yourself as a landscaper, lifeguard, beach cleaner, fence builder, dune protector or construction worker for the day.
Come and meet everybody's favourite tradie, Bob the Builder. There will be food stalls, live machinery demonstrations, free rides, and a little diggers' competition to entertain kids of all ages.
This free annual community event is hugely popular and appeals to the big kid in all of us!