How to get there

Ride the G: to Helensvale station. From here, head upstairs and use the pedestrian overpass to cross to the entrance to Helensvale train station. NightQuarter is across the road.
Need more help getting to this event? Visit the Translink Journey Planner.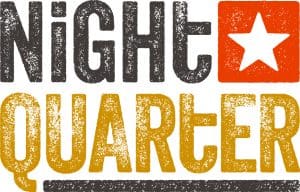 FRIDAY 2ND MARCH
CHARLIE A'COURT
Free Live Music
Charlie A'Court is a country boy raised on a record collection of classic R&B, soul, blues, rock and folk ranging from The Band and John Prine to Otis Redding and B.B. King. Charlie is well know for his emotional delivery and stage presence both in intimate acoustic settings and large festival stages. Whether he's stripping the music down on an acoustic or soaring above the band on electric, A'Court's music reaches people in a unique way.
SATURDAY 3RD MARCH
BORNEO
Free Live Music
Sydney based funky-punk quintet, Borneo, are hitting the NightQuarter main stage this March! Like all journeys, this has been a journey like no other journey. Borneo is self assured. When good sounds come, ears stand to attention. From our hallowed turf at Countess St we have shaped some sort of identity that can only come when plucking a word from a 6 foot x 10 foot World Map, printed in 1944 for the American Military Service.
ATURDAY 10TH MARCH
TIMBERWOLF 'IKAROS TOUR'
Free Live Music
Off the back of releasing his highly anticipated debut album Íkaros, Adelaide singer, songwriter and multi-instrumentalist Timberwolf has announced a national headline tour, set for early 2018. The news follows the singer's Like A Version performance this morning via triple j, with a stunning rendition of Chet Faker's "Talk Is Cheap".