How to get there

Ride the G: to Cavill Avenue Station. From here walk down Cavill Avenue towards Nerang River. Lionel Perry Park is on the corner of Ferny Avenue and Peninsula Drive.
Need more help getting to this event? Visit the Translink Journey Planner.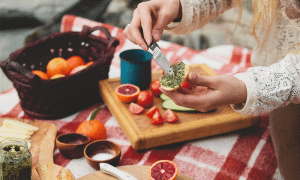 The Gold Coast Food and Wine Festival arrives in Surfers Paradise.
Spread your picnic blanket for a food, wine and music gathering in the park! Head to Lionel Perry Park and dine on local treats from great Surfers Paradise restaurants, hand-delivered by UberEats.
Enjoy dishes from the restaurants you love within the stunning setting of the park. Listen to live music and catch up with friends as the sun sets over the Gold Coast.
Use the code GCPICNIC for $5 off your first two orders on UberEats, delivery to Lionel Perry Park!
Visit the website for more information on entry prices and venue details.