How to get there

Ride the G: to Broadbeach South station. From here, get the 750 bus (Robina Station) to Robina Community Centre.
Need more help getting to this event? Visit the Translink Journey Planner.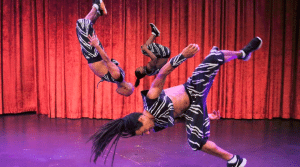 Zimboyz are Vusa, Abiy and Hassan by name but daring, thrilling and breathtaking by nature, undoubtedly one of the best acrobatic troupes to come out of Africa. Definitively the most unique throughout the world. You will be sitting on the edge of your seat as they take you on a journey to a world of impossible acts like chair balancing, human pyramids, firehoops, Chinese pole and that's just the warm up! Things really take off once Zimboyz get started and have you speechless with a gravity defying exhibition of flexibility, imagination and pure muscle strength. If you think your nerves can't take anymore, then get ready to laugh with their side-splitting antics as they release an explosion of energy, desire for fun and cheeky personalities throughout their performance.