Disruptions and what to do
01/06/2016
What is a disruption?
A disruption occurs when something affects the operation of the light rail system and limits the normal movement of trams along the track.
What happens during a disruption?
Trams can't steer around accidents. So while the G: is mainly separated from road traffic, if something happens on the track, we can't bypass it and keep our service running. Knowing this, the system was built with what are called 'turn back points'. They're exactly what they sound like – points along the track where trams can swap between northbound and southbound tracks and head back the other way. There are a few of them along the route. So if there is an incident in one section, we can keep trams moving across all the other, unaffected sections. We also have a great relationship with Surfside Buses and we organise buses to run along the affected section(s) to keep your journey going if the disruption is going to last a while.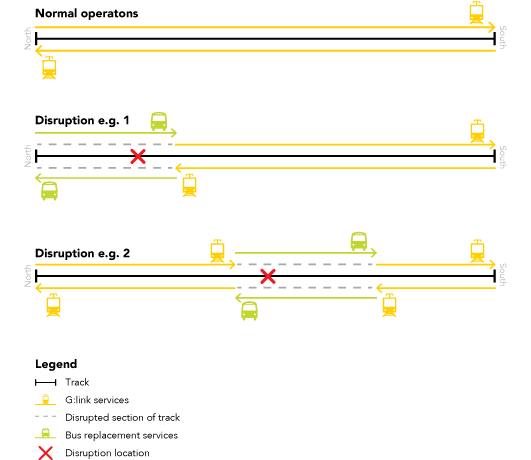 So long as we have enough trams in the unaffected sections, we can continue to run services to the timetable frequency. If some trams have been cut off by the disruption, we may have to run at less frequent intervals. Either way, we'll let you know what's going on via announcements on the station, scrolling text on the station displays and customer service staff out on the ground to help you find your way.
So what do I do during a disruption?
Remember to touch on and off every leg of your journey, so that you maintain a valid ticket. In the first example disruption, if you're heading south you would touch on the bus as you get on, and off again when you get off (just like catching a bus normally), then when you get to the station, touch on before boarding the tram, and again at the station at the other end (just like riding the G: normally).
We will let you know through announcements and display screens where the trams will run to (for example, a tram might only be running between Cypress Avenue and Broadbeach South stations) and if the disruption will last long enough that we will put on bus replacement services. So if you want to go to Southport, you would know that you'll need to get off at Cypress Avenue station and catch a replacement bus to Southport.
There are local area maps at every station. These maps show where the nearest bus stop (inc. night bus) is to the station. This stop is also where the bus replacement service stops. Simply check the directions on the map to that stop and catch the bus replacement service from there.
What does G:link do during a disruption?
We keep you informed about what's going on and how you can complete your journey.
We send staff out to the affected areas to help you find your way.
We work with Surfside to organise replacement buses if the disruption is going to last a while.
We fix whatever is disrupting the G: as quickly and safely as possible to get our service up and running again for you.
Visit ridetheg.com.au, translink.com.au or download the apps My G: or My TransLink (both free) for the latest information and notifications of service disruptions.