Event Day 1 (5 April 2018)
21/03/2018
5 April 2018, Commonwealth Games 2018 Gold Coast kicks off with a number of events across the Gold Coast. Broadbeach and Southport will be busy throughout the day.
Passengers to and from Broadbeach South, Broadbeach North or Southport stations are likely to experience delays during the day in terms of boarding the tram.
There is a peak travel period expected from 1pm – 8pm on southbound services.
Between 8am – 10am and from 10pm on northbound services, there is likely to be another peak travel period.
If at all possible, avoid using the tram between the hours from 10pm as large numbers of passengers are expected from the end of the swimming, netball and triathlon sessions.
If travel is unavoidable during this time, please expect delays and plan your trip accordingly.
If travelling to and from any Commonwealth Games events, in particular, lawn bowls, netball, swimming or the triathlon; it may be worthwhile arriving earlier to the venue, or leaving the venue later.
To check out expected peak travel times around our stations, other transport hubs and local roads during GC2018 visit the GC2018 Travel Map.  To plan your journey, visit the GC2018 Journey Planner  or download the GC2018 app.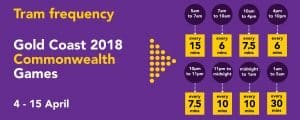 Please keep in mind, that while we can estimate peak travel times based on events around the network, these are estimates only. There may be delays at times outside of those listed above. We highly suggest leaving yourself extra time to travel during this two week period. We apologise for any delays and please be assured we will get you moving as soon as possible.