Getting around the GC with large groups or small children.
21/03/2018
What better reason to travel as a family or group, than by heading out for the day to enjoy the sights of the Gold Coast? Or by watching your favourite sport being played by Commonwealth teams? Don't let the expected crowds stop you from travelling with public transport.
Our tram drivers would never intentionally separate a group, however it is difficult to know who is travelling with whom through the crowds of people entering and exiting the tram. Below are some hints and recommendations to make sure separation does not occur, and what steps to take, should it happen.
Make sure everyone has their ticket sorted before boarding the tram. In crowded situations, it is best to have your ticket ready in advance (before you even get to the station). The best way of doing this is by pre-purchasing a go card or go explore Gold Coast card.
If travelling to and from a Commonwealth Games' event, the entry ticket includes FREE travel on the day of your event. Please make sure you have the correct event ticket with you at the time of travel. Click here for more information on tickets
Make sure your entire group is aware of which tram you are catching, and boards the tram at the same time. We recommend ensuring your group is aware of which station you're travelling to. If everyone knows which station to exit at, if part of the group does get separated, it is easy to meet up again at your destination.
Trams will be running every 6 minutes during peak time, so the rest of your group will not be far behind you.
If travelling with small children, please hold your child's hand on the platform and when boarding and exiting the tram.
During peak times, there will be staff at most platforms. Please contact a staff member immediately if you become separated from your child and we will work with you to reunite your family.
If your child is separated from you on the station, ask them to look out for our staff and we will keep them safe until you can return. Simply exit the tram at the next station and alert a member of staff that you have become separated from your child. They will assist you onto the next tram to help you return to your child. Most of our stations are only a few minutes apart in travel time. It will not be long until you can return to your original station.
Our staff can be identified by their uniforms and orange vests.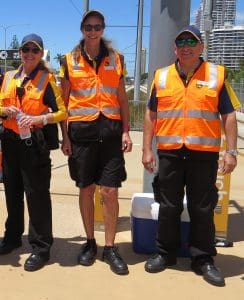 If at any time you cannot find a staff member, please press the information point located on all platforms. This will connect you (or your child) to our control room, and we can use our CCTV to keep an eye out.
If you have any questions please contact us at customerservice@ridetheg.com.au or call 1800 064 928.