Gold Coast 2018 Commonwealth Games and G:link
21/03/2018
We're the city of surf, sun and good times, and soon athletes and visitors from 70 participating Commonwealth countries will be dropping by to see exactly how great we are at hosting the Gold Coast 2018 Commonwealth Games. G:link will be doing our part by making sure the Coast, and the Games, keep moving.
Trams will be running 24/7 from 1 – 15 April. From  4 – 15 April trams will be running every 6 minutes during peak periods (7am to 10am & 4pm to 10pm) , making it easier for you to travel.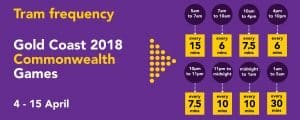 To our regular users, if you're travelling with us to get to and from work, or appointments, we advise travelling outside peak event times. You can find out more about our expected peak times on the individual event day pages.
To those riding the G: to and from Commonwealth Games' events, there are a few tips we recommend to ensure the best and safest trip for all.
Please hold on at all times whilst on the tram.
Plan your journey ahead of time. If possible, arrive early to the event, or organise to leave the venue later. Info on the specific event days and our services can be found here. You can also plan your trip with the GC2018's Journey Planner.
There will be crowds at the stations, and on the trams. Please follow all of our staffs' instructions. There will be wait times, please remain patient. We will get you moving as soon as possible.
Please vacate your seat for those that need it more. If possible, please keep the mobility area of our trams (located in the second and second-last carriages) free for those with mobility concerns, mobility scooters/wheelchairs or prams.
If travelling as a group, please make sure that everyone boards and disembarks the tram at the same time.
Please leave unnecessary bulky luggage or bags at home.
Help keep us beautiful and please take all rubbish with you.
Please remember to take all belongings with you.
Trams will stop at all stations – there is no need to press a button to stop the tram.
Please allow exiting passengers to exit the tram before attempting to board, and move down the entire length of the platform.
If you require any assistance on the platform, please contact a member of staff, or press the information point located on every platform.
If you require assistance whilst on the tram, there are emergency help points located in the second and second-last carriage of every tram. Please do not knock on the driver's door.
To be considerate to all passengers, please vacate the tram when asked by staff at Broadbeach South and Helensvale stations.
Please remain considerate of other passengers and our staff. Our trams will be running extra services, and we will endeavour to keep wait times to a minimum.
Your patience and understanding will go a long way to making this an enjoyable and memorable event for the Gold Coast.
Click here for information about transport and ticket options.
Click here for more information about safety on and around our alignment.
Click here for information about mobility and the G:.
Click here for information about travelling with young children or large group.
Click here for information about how peak time travel will work.
Click here for information about getting to and from the airport.
Click here for information about travelling on individual days of Gold Coast 2018 Commonwealth Games.
Click here for information about parking at our stations' Park 'n' Ride facilities.
For information about ticketing, fares or to plan your journey please visit Translink  or call 13 12 30 anytime.