Gold Coast Airport Marathon 2015
30/06/2015
Fast-track your marathon time: Ride the G: every 10 mins from 4am.
If you're planning on catching the trams to the Gold Coast Airport Marathon, we'll be running additional services from 4am on Sunday, 5 July to help you get there. We'll also be running all day (just like you!) so you can jump on board.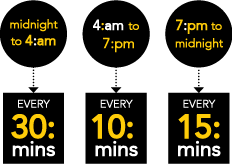 Remember to hold on at all times while on board the tram and push the illuminated button on the tram to open the door.
Use your go card for travel (remember there may be crowds, so it will be easier to use a go card) or buy a paper ticket at the station ticket machines.
Participants wearing their race number bib (or have it with them) are entitled to travel on the G: between midnight and 3pm to and from the event.
If you are unsure whether this applies to you, call TransLink on 13 12 30. You can also call TransLink for info on fares, ticketing and retailers, journey planning and general public transport info, or visit translink.com.au