Beware the Rhino
10/08/2015
Rhinos let loose on the tracks
Imagine a herd of 40 rhinos on skateboards cruising through the middle of the Gold Coast. Now imagine stepping out right in front of them.
This is a scenario that could playout on Gold Coast streets, only it's not a herd of rhinos, it's the Gold Coast light rail. G:link trams weigh as much as 40 rhinos and are just as difficult to stop.
Trams have been running for just over a year and many of the incidents we encounter are a result of drivers or pedestrians being careless around the trams. But people must recognise that because of their size trams need to be treated with respect – G:link trams weigh as much as 40 rhinos and can also create just as much damage.
So, G:link is bringing Spike the rhino from Melbourne's famous tram network up to the Gold Coast to encourage people to stay alert: when walking or driving, always look out for trams.
Pedestrians
A few simple tips to stay safe around trams for pedestrians are:
Always use designated crossings around the light rail
Always use pedestrian paths, never walk along the tracks
Drivers
Road rules have not changed with the introduction of trams, but due to the trams' size and the increased magnitude of damage in potential incidents, it is more important than ever to obey all road rules. Safety tips for drivers highlight important rules and behaviours including:
Only perform U-turns at signalised intersections with the U-turn permitted sign
Keep the tracks clear. This includes when queuing across an intersection
Only drive over the tracks where directed to do so (e.g. at intersections). Tracks are for trams.
Look over your shoulder before crossing the tracks. Trams may be approaching from behind.
>>Click here to download a brochure for drivers
Passengers
Careless drivers or pedestrians can cause injuries even if there is no collision between them and the tram. If a tram has to make an emergency brake to avoid a collision, the force of the sudden brake may injure those on board. For that reason, and for general safety while travelling, passengers are encouraged to hold on or sit down at all times while on board the tram.
When boarding the tram make a beeline for a seat and sit down as soon as possible if you're planning on sitting down. Sometimes even just the trams departing a station is enough to unbalance those who aren't steady on their feet such as seniors and children.
>>Check out this page for more info on priority seating areas and access on the trams
For more safety information, please feel free to contact us anytime on 1800 064 928.
>>We also have a resource kit to download here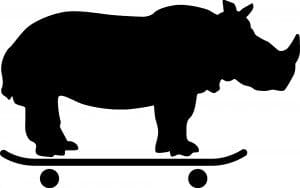 Beware the Rhino: Trams weigh as much as 40 rhinos