Trams will be running 24 hours during Gold Coast 2018 Commonwealth Games
05/02/2018
Over 11 days of world class sporting competition and cultural celebrations, the Gold Coast will host the Gold Coast 2018 Commonwealth Games (GC2018) from Wednesday 4 to Sunday 15 April 2018.
With more than six million additional trips forecast across the Gold Coast transport network during GC2018, the G: will operate more often with trams running to a 24 hour timetable between Helensvale and Broadbeach South stations.
For Games, trams will run every:
7.5 minutes or better between 7am and 11pm, and every 6 minutes in event periods
10 minutes from 11pm to 1am
30 minutes from 1am to 5am
15 minutes from 5am to 7am.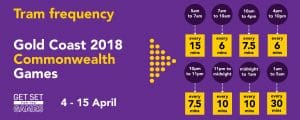 Extra Marathon services
On Sunday 15 April the Marathon race will take to the streets of the Gold Coast, from Southport Broadwater Parklands to Runaway Bay and back. For the event trams will run every 15 minutes from 4am to 6am, and every 10 minutes from 6am to 7am.
Plan ahead
We recommend you plan your journey in advance to ensure you choose the most suitable means of transportation available to you.
During the Games, it may be more convenient to use multiple modes of transport to avoid crowds or delays. It is best to allow additional time and explore all your options early to avoid last-minute stress.
For more information on services and expected peak travel times visit getsetforthegames.com or follow @getset2018.