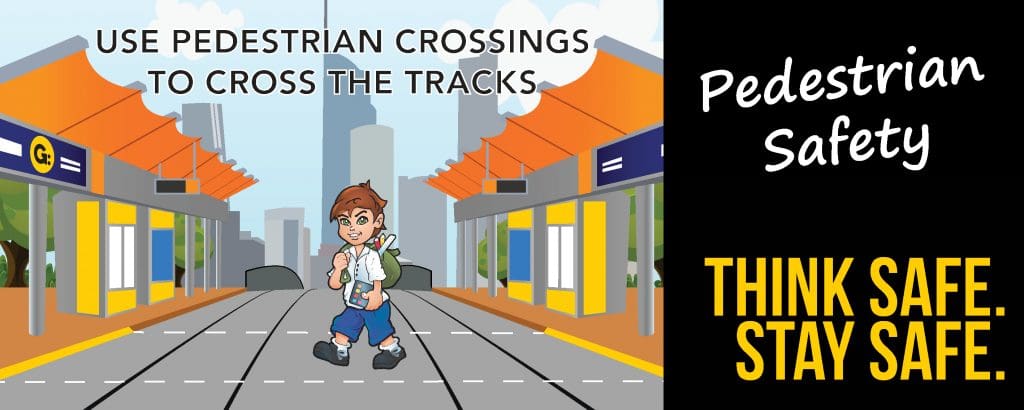 RAIL SAFETY WEEK 13 – 19 AUGUST 2018
07/08/2018
For this year's Rail Safety Week, G:link is focusing on 'Pedestrian Safety'. Being safe on G:link is about more than just watching your step as you enter and exit the tram; it's about being aware of your surroundings. It's easy to get complacent and rely on our habits, but those habits may not be safe ones.
Our trams weigh 60 tonnes when empty. As a light rail system, our trams are built to be as quiet as possible which means that once you're used to the noise of the tram, and are distracted by other things, the approaching sound of a tram can be lost in the background as ambient noise.
It's important to remove head or ear phones when walking on or across our network, and limit mobile phone conversation.
The yellow line on the platform, just like with heavy rail, signals the minimal safe distance from the tram in order to be out of its potential swept path (the area when the trams momentum may be able to catch an item or object and pull it along).  Always remain behind the yellow line, but also make sure that no part of your body, or any item you are carrying, crosses the yellow line.
Please only use approved pedestrian crossings to cross the tracks. Do not cross the tracks from platform to platform.
Most of our stations have signalled pedestrian crossings, for everyone to use to cross the tracks. At those stations that do not, please remember to look both ways when crossing the tracks.
Please do not walk along the tracks. Tracks are for trams. It may seem like the quickest path to your destination, but if you wouldn't walk down the M1 – why walk down the tram tracks?
Please use only designated entry and exit points to access our platforms. None of our exit or entry points involve going around fences, crossing through garden beds or walking directly next to the trams tracks (there is no point on our alignment where a pedestrian path is between the tram tracks and a lane of traffic – if you're walking there – it is not a footpath).
By following the simple tips above, we can work together to ensure our passengers, staff and all pedestrians remain safe.