How to get there
Ride the G: to Southport Station.
Need more help getting to this event? Visit the Translink Journey Planner.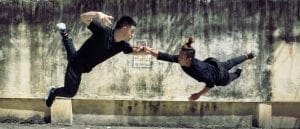 Dancers Erak Mith from Phnom Penh and Aaron Lim from Darwin use the rituals, movement styles and language of their shared hip hop culture to explore both the dramatically different worlds that surround them and the choreographic links that unite them.
Choreographed by internationally-renowned Sydney hip hop dance artist Nick Power and accompanied by the beats and sound design of Jack Prest, the work blends the raw, wild energy of b*boy battles with skilful improvisation and choreography, offering a cross-cultural perspective on style, culture and locality.
This project is the culmination of a four-year dance exchange between Darwin's D*City Rockers and Cambodia's Tiny Toones youth program. The two crews have travelled, trained, battled and performed together.
Between Tiny Cities is a physical conversation and celebration of contemporary hip hop dance.