How to get there
Ride the G: to Surfers Paradise North station.
Need more help getting to this event? Visit the Translink Journey Planner.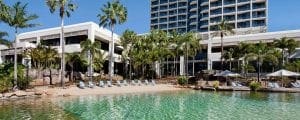 Celebrate Christmas in style this year with Surfers Paradise Marriott Resort & Spa's Christmas dining options. Whether an award-winning seafood buffet or a tropical seafood tower paired with a bottle of Champagne sounds like your kind of Christmas, the Marriott has something for everyone!
Christmas at Citrique
Celebrate the festive season with Citrique's award-winning seafood buffet, featuring additional Christmas delicacies and live entertainment for a wonderful celebration. With dining options available on Christmas Eve, Christmas Day breakfast, lunch and dinner, plus New Year's Eve, you can get your seafood fix throughout the Christmas season. Reservations are required, so make sure you call 07 5592 9800 to book your seats.
Christmas at Chapter & Verse
It's Christmas time and Surfers Paradise Marriott Resort & Spa is celebrating with a tropical seafood tower in the one and only Chapter & Verse Bar and Lounge! Showcasing local fresh seafood and a bottle of Champagne in tropical surroundings while overlooking the resort's beautiful lagoon, Chapter & Verse is all about celebrating Christmas with a dash of luxury. Tickets are $299 per couple and bookings are essential. Call 07 5592 9800 or buy your tickets online to reserve your spot!