How to get there
Ride the G: to Helensvale Station.
Need more help getting to this event? Visit the Translink Journey Planner.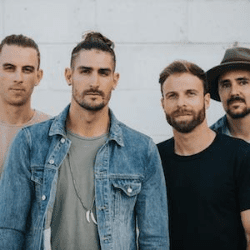 Catch Flaskas live at NightQuarter this Friday December 7! New Year's Eve 2016 saw the birth of Flaskas, debuting as support for blues and roots legend Ash Grunwald. When high school buddies Chris Flaskas (solo artist) and Duncan Barker (master percussionist) teamed up to perform Flaskas was born. Soon Soul Bassist Jasper Lambert, and guitarist Clint Dove joined, the Flaskas tribe was complete. 'Flaskas' are infectious in the way they command the stage; their unique sound is instantly earthy with a distinctly Australian rhythm. Flaskas' trademark sound is a re-imagining they call 'Earth Rock' – an organic high -power blend of alternative world, coastal roots, funk, folk, blues and Indigenous music utilising various native instruments. Bringing a real live tribal acoustic sounds to the doorstep of your senses, sharing a multi-dimensional and cultural experience that will touch and invigorate your soul.