How to get there
Ride the G: to Broadbeach South station.
Need more help getting to this event? Visit the Translink Journey Planner.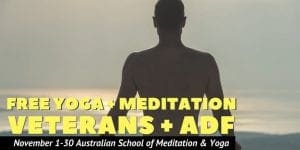 The Australian School of Meditation & Yoga (ASMY) invites all veterans and active duty ADF members to come to any class, any day at no cost for the month of November. Yoga and meditation are time-tested, proven practices that help decrease stress, anxiety and depression, increase inner peace, overall well-being and clarity and are simple yet powerful personal healing tools. Veteran and military communities around the world are successfully using the tools of yoga and meditation to help support their health, resilience, healing and the physical, mental and emotional demands of military service.
Combining mindfulness, asanas, relaxation and meditation, ASMY classes are a healthy and effective way to support well being. The practise of yoga has the additional benefit of preventing and/or reducing injury, while simultaneously helping to manage the experience of pain.