How to get there
Miami Marketta, Miami

Ride the G: to Broadbeach South station, then catch the high frequency Route 700 bus to Miami, then it's a short walk to Miami Marketta.
Need more help getting to this event? Visit the Translink Journey Planner.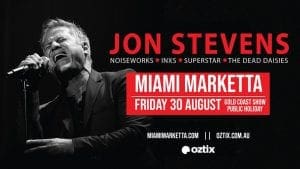 Jon Stevens is recognised as one of the most talented rock musicians to emerge from Australia and he's making his way to Miami Marketta! With a back catalogue jam packed with smash hits and no shortage of great songs to choose from, Jon is looking forward to reliving the different times of his musical journey and sharing those experiences with audiences.
On this special Jon Stevens tour, the acclaimed singer-songwriter will traverse all the hits of his career, from his solo work tight through to Noiseworks, INXS and Jesus Christ Superstar. Whether he's touring with INXS, doing the festival circuit with Noiseworks or playing his own headline solo shows to packed houses, it is, and always will be, about the music.