How to get there
HOTA, Surfers Paradise

Ride the G: to Cypress Avenue station, then catch the high frequency Route 740 bus to Bundall, then it's a short walk to HOTA.
Need more help getting to this event? Visit the Translink Journey Planner.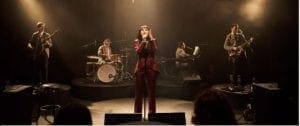 One of Australia's leading ladies of the stage, Naomi Price, is flying into HOTA on August 14 to star in the must-see music event of the year, Lady Beatle – a kaleidoscopic journey through The Beatles's most monumental hits. Presented by The Little Red Company and Critical Stages Touring, the creators of Australian works including Rumour Has It and Wrecking Ball will stage the rollicking magical mystery tour soundtracked by The Beatles's biggest chart toppers.
Stage and screen star Naomi will take audiences on a ride to 1960s Liverpool as she riffs off the cuff with accompaniment from a live band and get them bopping to featured classics 'Lucy in the Sky with Diamonds', 'Eleanor Rigby', 'Yellow Submarine' and 'Penny Lane'. This pop culture cabaret has wowed audiences and critics alike since its debut and returns to twist and shout through 32 venues across Australia as part of a three month tour.