How to get there
Ride the G: to Cypress Avenue Station, walk across Chevron Island Bridge, follow Thomas Drive, turn left onto Bundall Road.
Need more help getting to this event? Visit the Translink Journey Planner.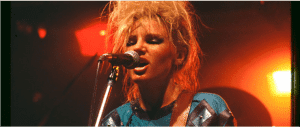 For three decades from the 1970s to 1999, the Gold Coast was a hot-spot on the bucket-list of Australia's live music touring circuit. With iconic venues like The Playroom, Bombay Rock, The Patch, Jet Club and Fisherman's Wharf, the coast played host to some of the hottest and most notorious international and Australian music acts; as well as some of our best local talent.
From The Ramones and Cold Chisel at The Playroom, to INXS and The Go-Betweens at Bombay Rock; and Nirvana and The Violent Femmes at Fisho's; Let there be rock! exhibition celebrates the heyday of hard-core rock and entertainment through stories, memorabilia, photos and footage. This exhibition will stir some memories, reignite people's passion for this era and create a new opportunity to relive legendary music and great times.
Don't miss Let there be rock! at HOTA, Home of the Arts from December 8 to February 17.