How to get there
Ride the G: to Cypress Avenue Station, walk across Chevron Island Bridge, follow Thomas Drive, turn left onto Bundall Road.
Need more help getting to this event? Visit the Translink Journey Planner.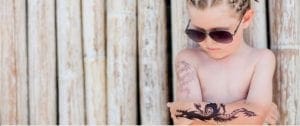 Scare the pants off your family and friends with some DIY tattoos (the temporary, kid-friendly kind!). Add colour to provided designs or draw your own rad creations.
This ArtLab supports the exhibition Let there be rock! on display in the HOTA gallery until February 17.