How to get there
Ride the G: to Main Beach Station, then it's a short walk to Tedder Ave.
Need more help getting to this event? Visit the Translink Journey Planner.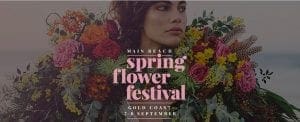 Immerse yourself in the beauty of flowers at the Main Beach Spring Flower Festival, where Porsches will wear petals and floral capes will take the shape of angel wings. See the Gold Coast in full bloom with its first ever flower festival! For two days, the streets of Tedder Avenue will spring to life with entertainment, interactive botanical workshops and spectacular street installations curated by floral extraordinaire, Julia Rose.
It's a free event for the whole family to enjoy, with live music, roving botanical fashion and talks by celebrity gardening specialists. Enjoy the art of kokedamas, master floral crown making or try your hand at ceramic painting. If you miss out on a ticket to our basket weaving workshop, be sure to bring your own to fill with succulents, orchids, roses and more from the community pop-up stalls.
See the local stores blossom in true floral fashion while the cafes and restaurants style their menus to taste like spring! Plant yourself amidst the rooftop entertainment for the day and take your pick of specialty season-themed events by night. Enjoy the transformation of our beloved Tedder Avenue and welcome back the warmer seasons with the first of many annual Main Beach Spring Flower Festivals.