How to get there
Ride the G: to Broadbeach South Station, catch the 745 Bus (Nerang) to Carrara Markets.
Need more help getting to this event? Visit the Translink Journey Planner.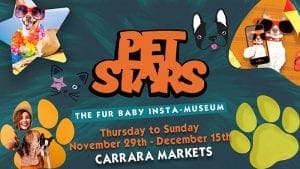 Part of owning a pet is dedicating time in your week to capturing them in their most ridiculously cute states. It can be a challenging task though, these being creatures that don't often co-operate behind a camera lens. Well, fear the frustration of missing that perfect pic of your furry friend no more because The Fur Baby Insta-Museum is coming to town!
This is a festival dedicated to capturing instagram-worthy moments of your beloved canine, with special times to bring along your feline friend if your heart so desires. The festival will involve an elaborate set-up of visually exciting rooms filled with pet friendly fun and immersive installations. All you have to do is position your pet, pray they behave and await the resulting photo of a lifetime. The Insta-Museum won't stop there, offering a Doggy Style grooming room complete with retro hair dryers, Central Paws Park, Game of Bones, a Tea for Two Doggy high tea, the ultimate Squeaky Toy Heaven dog ball pit to play in, Pet Stars Animal Hall of Fame, a Flea Circus, Best in Show, Jimmy Chewed stylish shoe room, Paw Stars glamour room and a Christmas Santa Pars room for Christmas themed photo of your pet.
To take advantage of this wonderful exhibition, simply book in a session and BYO fur-baby to the event. Cat Night Out is Thursday's from 6:00–8:00 pm and each week a winner will be announced as the Best Instagram Pet Star — heres hoping the crown comes home with yours.
You can also support the hard work of the Animal Welfare League of Queensland while you're at it by visiting the Rescue Room where $1 from every ticket purchase will go back to the charity.
The Pet Stars Fur Baby Insta-Museum will run from Thursday to Sunday November 29 to December 15 at the Carrara Markets. Tickets can be purchased and more information can be found online through Eventbrite.