How to get there
Ride the G: to Broadbeach North Station, walk to the Gold Coast Convention Centre, follow the overhead walkway to The Star Casino.
Need more help getting to this event? Visit the Translink Journey Planner.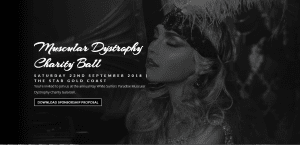 For over 24 years, Andrew & Gregory Bell have supported Muscular Dystrophy Queensland and are extremely proud to have raised over $3 million to date through their Annual Gala Ball and Charity Auction fundraising event.
We are committed to supporting the research into finding a cure, which will result in eliminating a wide range of genetic diseases. Their association with the Muscular Dystrophy Queensland directly assists families by proving equipment for their children to be a little more comfortable and a large proportion of monies raised go directly to research. A cure may only be a few years away which will have a significant effect on our society.
You're invited to come as a dapper gent or a silent screen star, as we raise funds for Muscular Dystrophy Queensland. Our glamorous big band soiree will commence at 7:00 pm. The exclusive party is held at the luxurious The Star Gold Coast, Grand Ballroom.
Be entertained with a jazz band, modern music, three-course meal and drink package.
Dress in glamorous big band theme or regular black tie attire.
Pricing:
Platinum sponsorship – sold out!
Gold table of 10: $2,500 – 3 remaining!
Silver table of 10: $2,300
Bronze table of 10: $2,100
Single ticket: $210
Contact Selena Carson 0410 650 185 or s.carson@rwsp.net