How to get there
Ride the G: to Cavill Avenue Station.
Need more help getting to this event? Visit the Translink Journey Planner.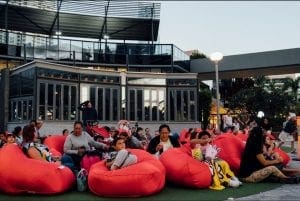 Circle on Cavil is going live for Surfers Paradise LIVE – streaming all the action from the award-winning four-day festival on the Circle on Cavill big screen TV.

Presented by voco Gold Coast and hosted by Surfers Paradise Alliance (SPA) Surfers Paradise LIVE will take over Surfers Paradise with a host of live music acts over two stages and over 35 venues throughout the precinct from Thursday, May 2 until Sunday, May 5.

Circle on Cavill will give guests a front row beanbag to all the action from the festival including the fifth annual Gold Coast Music Awards on Thursday, May 2. Grab your friends and cosy up on a beanbag as the Gold Coast's best musicians, songwriters, and performers are rewarded for their efforts between performances by locals Casey Barnes, San Mei, and Peach Fur.

Come Friday, May 3 Circle on Cavill will kick start your weekend with live performances from old school rockers The Living End, The X Factor Australia star Reece Mastin, and Jebediah.

Live music will fill the Circle on Cavill precinct on Saturday, May 4 with the talented Leonie Kingdom from 11:30am and the funky Ryan Munro at 12:30pm before Surfers Paradise LIVE takes to the big TV once again, showcasing performances from Hoodoo Gurus, Daryl Braithwaite and Thirsty Merc.

Then on Sunday, May 5 Snag Rock will have Circle on Cavill buzzing from 11:30am and Daryl James at 12:30pm before LIVE performances from The Screaming Jets, Chocolate Starfish, Boom Crash Opera, and Bachelor Girl take over the big screen in the precinct.

With a host of food vendors available within Circle on Cavill there are plenty of dinner options including Royal Dynasty, Poke California, Dumpling and Noodle on Circle, Knox Dining, and San Churro Chocolateria.
Event Location
3184 Surfers Paradise Blvd
Surfers Paradise, Gold Coast 4217
Australia
Map It