How to get there
Ride the G: to Broadbeach South Station, catch the 700 Bus (Tweed Heads) to Miami.
Need more help getting to this event? Visit the Translink Journey Planner.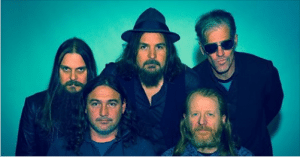 Tumbleweed play their first LP in full on the Gold Coast for the first time ever. In 1992 Tumbleweed were at the top of the heap, following the runaway success of their back to back EPs Theatre of Gnomes and Weedseed, with both topping the ARIA Alternative Charts, their direct signing to Atlantic records in America and a string of successful tours and supports with acts such as Mudhoney, Nirvana, Rollins and Iggy Pop.
Tumbleweed's train was rolling at full steam by the time they released their debut album. The first album produced by US producer Mr Colson entered the national charts at number 12 and spawned hit singles such as 'Sundial' and 'Acid Rain', which have remained pivotal songs in the Tumbleweed story to this day.
Tumbleweed will be embarking on a National tour through July to promote the release of the album on vinyl and to celebrate they will be playing the album in its entirety, live for the first time ever. Don't miss this opportunity to see Tumbleweed take a trip back to 1992 and hear what made it such a special moment in Australian rock 'n' roll.