How to get there
Ride the G: to Cypress Avenue Station, walk across Chevron Island Bridge, follow Thomas Drive, turn left onto Bundall Road.
Need more help getting to this event? Visit the Translink Journey Planner.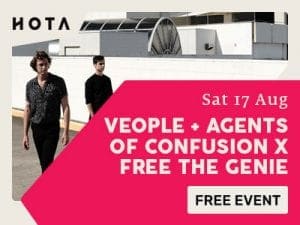 Get ready for a night of new works and bold art at HOTA, with an experimental electronic work from Veople and experimental performance from Agents of Confusion in collaboration with band Free the Genie. Audiences will experience an enigmatic performance of experimental and electronic sound as Veople performs and records a new sound experience as part of a larger conceptual work, soon to be transformed into a physical contemporary art installation.
Agents of Confusion will take to the stage alongside psych-groove band Free the Genie to present an experimental routine, continuing its interest in play and the absurd. The Agents will work with Brisbane-based dancer and choreographer Georgia Pierce as part of a residency at HOTA to extend its intuitive movement and dance performance.