How to get there
Ride the G: to Cavill Avenue Station.
Need more help getting to this event? Visit the Translink Journey Planner.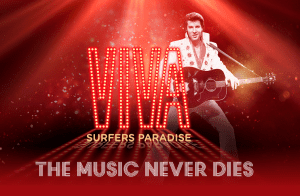 VIVA Surfers Paradise, Australasia's largest tribute artist festival, is returning to the Gold Coast from Friday July 10 to Sunday July 19.
Featuring an array of music and entertainment from some of the world's best tribute artists, VIVA 2020 is bringing three international performers this year — David Lee, Cote Deonath and Jesse Aron, plus more to be announced. Experience a rush of nostalgia and be transported back in time as homage is paid to some of the world's greatest music legends. Relive the music, memories and moments as they pay tribute to those well-loved artists and bands who have played a pivotal role in shaping music history.
Running over ten days, catch free live performances and events spanning multiple genres and decades at VIVA Surfers Paradise 2020. For more information and the full lineup, head to the Surfers Paradise website.