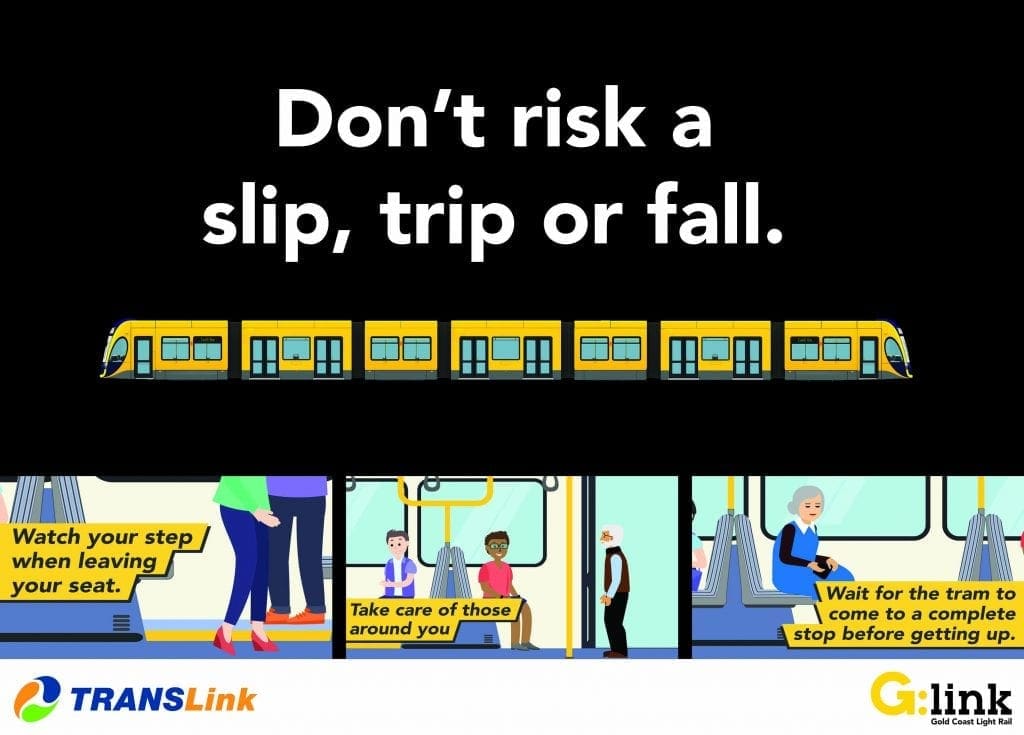 Nothing is more important to G:link than the safety of our passengers, employees, and the community. To raise awareness about safety around the tram, we have put together some simple safety tips for you to follow when riding the G:
Boarding
When boarding the tram it's important to follow these simple tips:
• Ensure you have touched on at the station before you board tram.
• If you require more time to board the tram wait in the boarding assistance areas, which are easily identified by the blue boarding assistance squares on the platform. When the tram arrives use the blue button on the door to enter the tram. Using the blue button will hold the door open longer and alert the driver you may need extra time to find a seat.
• Once onboard always grip a handrail or strap while finding a seat or standing.
On board
Once on board, follow these tips while you are travelling:
• Find a seat and sit tight for the duration of your journey.
• Use the priority seating area if you require it.
• If a seat isn't available, use a feet-apart strong stance and grip a handrail or strap.
• If you are traveling with a mobility scooter or wheelchair, we recommend that you park in the allocated spaces provided. Tram entry points are identified by blue boarding assistance squares on the platform.
Disembarking
At the end of your journey, ensure you exit safely by:
• Gathering your things before the tram arrives at your stop.
• Don't start moving towards the exit until the tram has come to a complete stop at the station.
• If you are sitting in a raised seating area, watch your step when exiting.
• Grip a handrail or strap as you exit.
• If you are sitting in the second and second last tram modules you can use the stop button inside the module to alert the driver that you will be exiting at the next station and may require extra time to disembark.
Crossing safely around trams
Trams can take much longer and further to stop than you may think. It's important to be extra vigilant when crossing tram tracks, so here are some tips to keep you safe:
• Enter and exit platforms at designated access points.
• Pedestrians should cross tram tracks at designated pedestrian crossings only.
• Remember don't rush to catch the tram, there is another one only minutes away.
Should you require assistance whilst you're on the G:link network, every platform has emergency and information points. Please press the button to talk to someone in our control room who will be happy to assist you with your enquiry.
Complacent behaviour around the G: is not worth the risk. THINK SAFE. STAY SAFE.