How to get there
Ride the G: to Cypress Avenue Station, walk across Chevron Island Bridge, follow Thomas Drive, turn left onto Bundall Road.
Need more help getting to this event? Visit the Translink Journey Planner.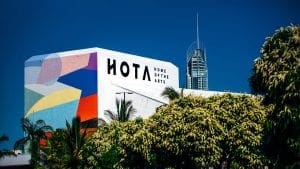 If you've not yet heard of ASMR, allow us. It's short for Autonomous Sensory Meridian Response and according to its definition, it's intended to deliver a kind of 'head orgasm' by triggering a calming, pleasurable feeling often accompanied by a tingling sensation. The triggers are different for everyone but some of the common ones are believed to include whispers, white noise, lip smacking, tapping on hard surfaces, brushing sounds and even the sound of someone eating. If you're keen to see what all the fuss is about, head along to ASMR Live at HOTA with one of the world's best-known ASMRtists, Emma Smith – known as WhispersRed as she guides you to a deeply calm state.
In the dark and dimly lit den, get cosy in your beanbag and experience a one-hour live performance from WhispersRed, as she creates soothing sounds using everyday objects and gentle whispers.
London-based Emma Smith (aka WhispersRed) has been soothing the internet with her deeply calming ASMR videos since 2014. Some of her most popular videos have been watched by over 10 million viewers and she is a thought-leader in the area, with her book Unwind Your Mind recently published around the world.
Ticket holders from both sessions can stay and join the ASMR Meet Up to mingle and meet Emma at 8:30 pm. ASMR Live! Is presented by Gold Coast Film Festival to celebrate innovative screen content and the communities it creates and forms part of the ten-day OUT LOUD Festival of events – for a complete run-down of happenings, jump over here.