How to get there
Ride the G: to Southport Station.
Need more help getting to this event? Visit the Translink Journey Planner.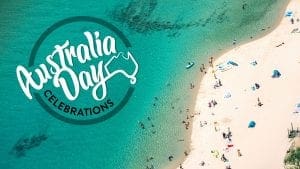 Be part of the festivities at the Gold Coast's 2020 Australia Day Celebrations on Sunday 26 January at Broadwater Parklands, Southport.
Headlined by The Round Mountain Girls and supported by an impressive line-up of local talent including Electrik Lemonade, San Mei and Liv Heyer.
This FREE event kicks off at 4pm and concludes at 8pm.
With fun for the whole family, the night will boast delicious food vendors, the JJ Richards 'Aussie Activities Zone' including water play and arts activities as well as beach volleyball on the foreshore.
Support our drought-stricken farmers and head to 92.5 Triple M to donate a gold coin to Rural Aid Australia, alternatively you can donate online at buyabale.com.au/goldcoast
So pack your sunscreen, hat and a picnic rug and gather your family and friends for a wonderful afternoon of food, fun and live music. Bring your own water bottle and visit the free water refill station to stay hydrated! The only place to be on Australia Day is the Broadwater Parklands.
Don't worry about remembering where you parked, get on board and ride the G.
Live local? Get active and walk, ride, scoot or skate.
This event is supported by JJ Richards, 92.5 Triple M and Nine News Gold Coast.
Visit http://cityofgoldcoast.com.au/australiaday
Looking for a way to cool off during the day?
Splash into the Gold Coast Aquatic Centre for a traditional Aussie pool party, just a short stroll from the Parklands. Families can enjoy the fun from 11am to 2pm with giant inflatables, competitions, games and much more. Normal admission charges apply.