How to get there
Ride the G: to Southport Station, catch the 704 Bus to SeaWorld Drive at Mariners Cove, Main Beach.
Need more help getting to this event? Visit the Translink Journey Planner.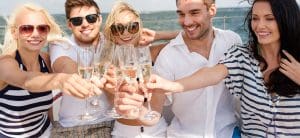 Bring on Australia Day on Sunday as we cruise the Gold Coast Broadwater for the Ultimate Day Out.
With our favourite DJ duo Riki Lee and Shit Shirt setting the mood, the YOT Club is dedicating this event to lend a helping hand to the NSW Rural Fire Service.
The Ocean Deck will be transformed into the Great Australian BBQ as we sizzle up a menu of BBQ favourites, with all food sales proceeds being donated to the NSW Rural Fire Service, along with 50% of all ticket sale revenue.
Grab your crew and lock in for a fantastic day on the water. Come hungry and ready to dance for this very special event.
Pickup from C ARM MARINERS COVE, MAIN BEACH.
BOOKINGS ESSENTIAL YOT Club cruises are over 18's events.