How to get there
Ride the G: to Cavill Avenue Station.
Need more help getting to this event? Visit the Translink Journey Planner.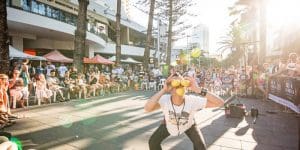 The streets of Surfers Paradise will become a stage for an unrivalled collection of acrobats, unicyclist, jugglers, musicians, magicians and comedians this Easter weekend when the precinct hosts the 2020 Australian Street Entertainment Carnival.
Kicking off on Good Friday, April 10, the four-day celebration of street entertainment will see many of the country's best street entertainers and buskers descend on Surfers Paradise to showcase skills and talents that must be seen to be believed. With entertainers taking to the streets daily, the carnival will provide a unique opportunity to witness a variety of performances at various locations throughout the Surfers Paradise precinct, including Cavill Mall and the Foreshore. From acrobatics and dance to magic and comedy, the eclectic mix of genres on show will deliver a huge variety of thrills for people of all ages.
Event-goers can take advantage of convenient public transport options to and from Surfers Paradise, with a tram stop located within walking distance of the Australian Street Entertainment Carnival.
The Australian Street Entertainers Carnival will run from Friday April 10 to Monday April 13. Performers will take to the street daily from 8:00 am to 6:00 pm. For more information about the Australian Street Entertainers Carnival head to the official Surfers Paradise website.