How to get there
Ride the G: to Cypress Avenue Station, walk across Chevron Island Bridge, follow Thomas Drive, turn left onto Bundall Road.
Need more help getting to this event? Visit the Translink Journey Planner.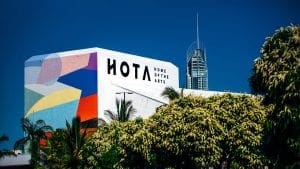 GC Laughs Festival is a week long celebration of non-stop comedy with a dazzling line-up of the funniest international stars, homegrown legends and next-big-things in comedy.
After a hugely successful season in 2019, the GC Laughs Festival will be back in 2020 for a hilarious week of rib-tickling comedy at HOTA from March 14 to March 21.
Laugh yourself silly at a mix of homegrown talent and international acts including Joel Creasy, Becky Lucas, Heath Franklin's Chopper, Gen Fricker, James Veitch, Mark Watson, Dusty Rich, Larry Dean, Jeremy Corbett, Melanie Bracewell and Ben Hurley.
The full 2020 GC Laughs Festival program will be announced by the end of January. Check out the current festival program here.
Image credit: HOTA