How to get there
Ride the G: to Southport Station, it's then a short walk to Broadwater Parklands.
Need more help getting to this event? Visit the Translink Journey Planner.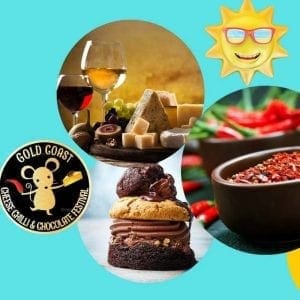 It's an unbeatable trio combining some of the best things in life: a little bit of sweetness, some savoury delights and a bit of spice. If this is a combo you can get around (hey, even if you're into one of the three), say hello to the Gold Coast Cheese, Chilli and Chocolate Festival. Head to Broadwater Parklands on Sunday June 13 for a day of deliciousness in the way of an array of specialty providores. Enjoy a day of sunshine and lay out a picnic rug under the classic clear winter skies, while you feast with your family and friends. Pups are welcome to this event too, which will be taken to the next level with entertainment and live music! Does it get better?