How to get there
Ride the G: to Cypress Avenue Station, walk across Chevron Island Bridge, follow Thomas Drive, turn left onto Bundall Road.
Need more help getting to this event? Visit the Translink Journey Planner.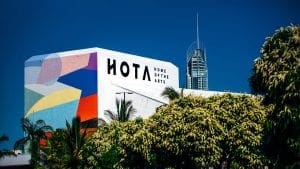 Have you ever wondered how predictable your future really is? What is fate? Why do some people love coriander and others detest it? If you have ever pondered life's great mysteries  (except the coriander question, we have no answers for you), you're invited to join neuroscientist and author Dr Hannah Critchlow to delve into research revealing the extent to which the course of our life is hardwired into our brains, from what we choose to eat and the anxieties and phobias we carry and who we fall in love with.
This intimate knowledge of our brain and behaviour can be used to empower us to shape better futures for ourselves.
Hannah Critchlow is the science outreach fellow at Magdalene College, University of Cambridge, has been named a Top 100 UK scientist by the Science Council and is listed as one of the University of Cambridge's inspirational and successful women.
The Talks & Ideas series is presented by HOTA as part of the OUT LOUD Festival of events – for a complete list of happenings, jump over here. Talks & Ideas is hosted by Paul Barclay (Radio National) and presented in association with Griffith University.