How to get there
Ride the G: to Cypress Avenue Station, walk across Chevron Island Bridge, follow Thomas Drive, turn left onto Bundall Road.
Need more help getting to this event? Visit the Translink Journey Planner.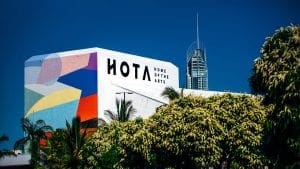 Artificial intelligence. We know it's all around us but what is it exactly? What does it mean for humanity? In this fascinating Talks & Ideas discussion, Dr Robert Elliott Smith looks at artificial intelligence and the 'morals' behind the technology that increasingly rules our lives.
Dr Robert Elliott Smith PhD FRSA is the author of Rage Inside the Machine: The Prejudice of Algorithms, and How to Stop the Internet Making Bigots of Us All. He has worked in artificial intelligence for 30 years, helping create software systems that learn fighter jet manoeuvres, describe immune systems, reveal emotion in financial markets, and suggest how social networks propagate political polarisation.
He grew up in Alabama during desegregation bussing, and those life experiences inform his perspective on how algorithmic bias can affect society.
The Talks & Ideas series is presented by HOTA as part of the OUT LOUD Festival of events – for a complete list of happenings, jump over here. Talks & Ideas is hosted by Paul Barclay (Radio National) and presented in association with Griffith University.