How to get there
Ride the G: to Broadbeach South Station, catch the 700 Bus (Tweed Heads) to Gold Coast Highway at Santa Monica Road, then it's a short walk to Hillcrest Parade.
Need more help getting to this event? Visit the Translink Journey Planner.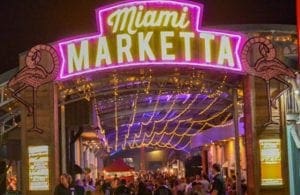 Who doesn't love a midweek treat? Miami Marketta are putting on the perfect event to break up the weekday monotony, hosting a Midweek Marketta every Wednesday from 5:00-10:00 pm.
The Midweek Marketta will feature a smaller version of the market, with a wine and cocktail bar, boutique beer, live music, Rabbit Radio Rummage (3rd Wednesday of the month) and Drag Queen Bingo (4th Wednesday of the month). There will of course be plenty of Marketta's trademark street food, including Mexican, Japanese, vegetarian, Greek and desserts.
This is a free event starting Wednesday January 8 and running through until September. Bookings are available for groups larger than 8 and more information can be found online.