How to get there
Ride the G: to Cypress Avenue Station, walk across Chevron Island Bridge, follow Thomas Drive, turn left onto Bundall Road.
Need more help getting to this event? Visit the Translink Journey Planner.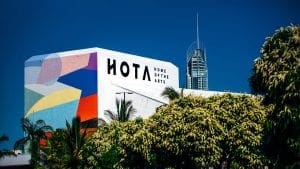 This March, you're invited to dance, laugh and sing out loud at HOTA for the first ever OUT LOUD Festival. Spanning ten glorious days and nights, OUT LOUD delivers a jam-packed program of big ideas and fun to celebrate diversity in today's ever-changing world.
From big ideas to belly laughs, cutting-edge technology to family sing-a-longs and one huge party with Brazilian musical royalty; OUT LOUD offers a delightfully-diverse line-up of international superstars and local luminaries.
OUT LOUD runs from March 6 to 15, with performances and activities held across HOTA's outdoor space and venues.
OUT LOUD Festival
Friday March 6 – Jorge Ben Jor and Liniker e os Caramelows
Saturday March 7 – Grapes of Mirth
Monday March 9 – Talks & Ideas: Dr Hannah Critchlow
Tuesday March 10 – Talks & Ideas: Dr Robert Elliot Smith
Wednesday March 11 – Talks & Ideas: Christiana Figueres
Thursday March 12 – ASMR Live! with WhispersRed
Saturday March 14 – ASMR Workshop with WhispersRed
Saturday March 14 – The Greatest Showman Sing-A-Long Experience
Sunday March 15 – Pop & Play
March 6 to 15 – Visual Arts: Almighty Dragons by Jason Phu