How to get there
Ride the G: to Southport Station and then catch the 711 Bus to Sanctuary Cove.
Need more help getting to this event? Visit the Translink Journey Planner.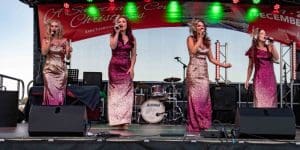 Christmas Carols are set to fill the air at Sanctuary Cove, as locals sing along to their favourite Christmas songs at the annual Carols on the Green on Thursday December 2.
Starting from 5:00 pm, Christmas Carols will fill the air as talent, such as Renae Suttie and Wes Taylor Duo, take to the stage.
Gather for a night under the stars on the Marina Lawn to enjoy a harmonious night of singing and dancing all while raising funds for local charity, ConnectKids.
Take advantage of the free entertainment and grab a bite to eat at one of the surrounding venues.
At half time, guests will be treated to the annual Buggy Parade hosted by The Rotary Club of Hope Island.
The immaculately presented golf buggies will get a bedazzling make over and parade around the lawn for all to see.