How to get there
Ride the G: to Cavill Avenue Station, a short walk down Cavill Mall to the beach.
Need more help getting to this event? Visit the Translink Journey Planner.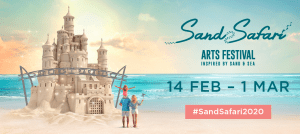 The world's most popular fairy tale characters will come to life in the most Gold Coast of ways when the annual Sand Safari Arts Festival returns to Surfers Paradise from February 14 to March 1, 2020.
Located at Surfers Paradise, fifteen of the country's best professional sand sculptors will design and intricately carve their favourite fairy tale scenes from 10 tonnes of sand as they battle for top honours in the Australian Sand Sculpting Championships from February 14-16. The best sand sculptor will be announced on February 16 and the completed sculptures will remain on display until the end of the festival.
Visitors can watch as gigantic carvings of Little Red Riding Hood, Pinocchio, Cinderella and The Little Mermaid are built over three days and festival attendees can vote for their favourite sand masterpiece in the People's Choice Award to be announced on the last weekend of the event.
On the foreshore, The Castle of Ever After will host a range of free activities including performance art, children's dance classes and live music. Storytelling characters will bring the most famous of fairy tales to life at daily readings, along with vignettes, adaptations and scheduled photo opportunities at selected venues across the Surfers Paradise precinct.
Cavill Mall will also be transformed into a bustling live art gallery as talented artists create, display and sell their art pieces from a wide array of mediums including live portraits, landscape drawings and body painting.
The Sand Safari Arts Festival is a free public event that anyone can attend over the course of the 2020 festival.