How to get there
Ride the G: to Cypress Avenue Station, walk across Chevron Island Bridge, follow Thomas Drive, turn left onto Stanhill Drive and follow the signs to the Green Bridge.
Need more help getting to this event? Visit the Translink Journey Planner.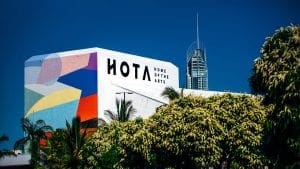 SCOOP! is a multi-sensory celebration of cabaret and sundaes that will feature sessions of live performances from some top-notch Queensland troupes, as well as icy treats from phenomenal local dessert makers. The festival will run for three days and two nights, and will feature showcase performances from phenomenal troupes including Circa, Company 2, Hoopla Clique, Flipside Circus and the Gold Coast Mermaids Synchronised Swimming Club. When the sun sets on Friday and Saturday, the site will transform into CLUB SCOOP! – a lively party precinct featuring a new set of evening performances and boozy ice cream concoctions .In addition to the entertainment, SCOOP!'s Ice Cream Alley will play host to 30 vendors, each dispensing indulgent treats to take the edge off the summer heat. Making an appearance at the festival will be the likes of Ipswich dessert destination Ungermann Brothers, traditional gelato makers La Macelleria Gelateria, plant-based powerhouse Coco Whip and 2020 success story Doughluxe, which will be slinging a new ice cream-filled doughnut for the event.