How to get there
Ride the G: to Broadbeach South Station, catch the 700 Bus (Tweed Heads) to Gold Coast Highway at Santa Monica Road, then it's a short walk to Hillcrest Parade.
Need more help getting to this event? Visit the Translink Journey Planner.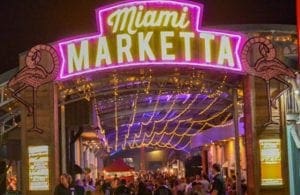 Outings with small people can always be hit and miss. Sometimes, despite your best efforts, the kids just aren't into it. If you're looking for an activity that is guaranteed to be a hit (not actually guaranteed because small people are unpredictable), ™ Sundays is happening at Miami Marketta on Sunday October 25. The event, presented by Tiny Minds, is from 12:00–6:00 pm and will feature live music from Buttered Band, Tully John and Liza Jane and Bronte Eve. Hungry? You're in luck because there will be a mouth-watering selection of food stalls alongside live art, skateboarding demos, face painting and balloon art.
General admission tickets to ™ Sundays are $24 for adults, $14.80 for kids aged five to 12 (under four is free) or there is a family pass available for two adults and two kids for $56.10. If you are super keen to make a day of it, there are some additional add-ons available.
TICKET ADD-ONS:
ROCK N SLIDE SKATEBOARDING – Purchase a lesson and get taught by the best on the coast. Starting as young as three for only $12 per person. This includes all gear including boards, pads and helmets. Please note, closed in shoes must be worn.
THE YOUNG HENRYS CAVE – Step into this kid-free zone and enjoy games, activities and a beer on arrival.
GIN PARLOUR TASTING – Open your palette to the Gin Parlour and enjoy the Ginny Barnes board featuring an array of Australian gins accompanied beautifully with a cheese and antipasto platter.