How to get there
Ride the G: to Gold Coast University Hospital Station, catch the 719 Bus to Runaway Bay. It is then a short walk to the Runaway Bay sports-field complex.
Need more help getting to this event? Visit the Translink Journey Planner.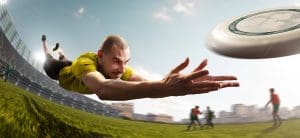 The inaugural WFDF 2020 World Masters Ultimate Championships (WMUC 2020) will be hosted in the City of Gold Coast, Queensland, Australia, from 5 – 12 September.
Your Hosts, the Australian Flying Disc Association (AFDA) are thrilled to have the opportunity to run this event and aim to deliver the best World Championship tournament experience possible. We want players to be able to produce their best performance on the field, and for them to take home lifelong memories of the Gold Coast.
Previous World Masters divisions were included in the World Ultimate and Guts Championships (WUGC). In the last WUGC event in London 2016, 17 Mens teams and 11 Womens teams competed in the Masters divisions. The decision to run the Masters competition as a separate event reflects the rapid global growth of the sport and the increasing number of mature age players committing themselves to competitive Ultimate.
The WMUC event in 2020 is expected to feature 40+ teams representing approximately 20 nations, and will attract over 1500 athletes and spectators to the Gold Coast for a week of competition, culminating in the Championship Finals on Saturday 12 September.
WMUC 2020 will be live streamed around the world to an estimated global audience of up to 1 million viewers in 80 nations.