Australia Day at Broadwater Parklands
21/01/2019
Be part of the festivities at the Gold Coast's 2019 Australia Day Celebrations on 26 January at Broadwater Parklands, Southport with extra tram services to get you home again.
Headlined by Mason Rack Band, the winners of the Gold Coast Music Award's 2018 Best Live Act, and supported by an impressive line-up of local talent.
The event kicks off at 4pm and concludes at 8pm with a spectacular fireworks display set to rival New Year's Eve events.
With fun for the whole family, the night will also boast delicious food vendors and the JJ Richards 'Aussie Activities Zone'. Relive the fun of the Gold Coast 2018 Commonwealth Games and give beach volleyball a try down by the Broadwater. The little athletes of the family will love the 'Mini-Commonwealth-Games'.
So, pack your picnic rug and gather your family and friends for a wonderful afternoon of food, fun and fireworks; the only place to be on Australia Day is the Broadwater Parklands. We will be running extra services from 7pm to 10pm.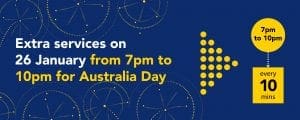 For anyone travelling on the G:, keep in mind that services to and from Southport, Southport South and Broadwater Parklands stations may be busy. Please remain behind the yellow line on the platforms at all times and follow the direction of G:link staff.
For information of ticketing, fares or to plan your journey, please visit TransLink or call 13 12 30 anytime.
To keep up-to-date with service changes and to track our trams, download our My G: app, available on apple and android.